Michelin Latitude Tour Hp Zp Tyres Available in Halifax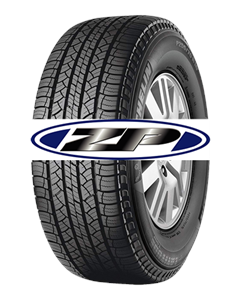 Latitude Tour Hp Zp
MICHELIN Latitude Tour HP is engineered for a long treadlife and quiet, comfortable drives for 4x4s and SUVs. Braking performance for safety on wet roads[1]
• MICHELIN on and off-road touring summer tyre
• Good wet braking performance
• Wear resistant tread
• Designed for comfort and reduced noise disturbance
Features and Benefits
Braking in wet conditions
Engineered for safety on wet roads, the MICHELIN Latitude Tour HP all road tyre features a rigid tread pattern for even distribution of pressure to optimize road contact in wet conditions. Helps provide peace of mind even on light off-road trails
Good longevity
The MICHELIN Latitude Tour HP durable tyre for SUV vehicles features the Terrain-Proof compound designed to deliver good longevity and wear resistance in versatile driving conditions. This MICHELIN tyre boasts a long treadlife for miles of 4x4 driving pleasure
Designed for a comfortable and quiet ride
Experience pleasurable drives with a 4x4 tyre designed for comfort. The MICHELIN Latitude Tour HP tyre for on and off-roads features MICHELIN StabiliGrip Technology with specially positioned sipes to reduce vibration and noise. Enjoy your rides on daily work drives or weekend journeys with your family, even on light off-road tracks
What are "run flat" tyres?
Run flat tyres have specific technology to allow you to drive for a limited distance at a reduced speed after a puncture or a drop of tyre pressure. MICHELIN® Zero Pressure (ZP) tyres provide run-flat technology that allows you to drive up to 50 miles at 50 mph with a flat tyre.
Sorry, we currently do not have any tyres with the Latitude Tour Hp Zp pattern in stock.
Contact us to see if we can order these in for you.